January Update
Posted on January 21, 2021 by Nathan
Bible First Online
Earlier this month, we were finally able to do the initial release of Bible First Online! About 30-35 people tuned into a Zoom call where we explained how and why we use Bible First Online (BFO) in ministry, and went over some basic details of how BFO works on a practical, day-to-day level.
Most of those people have since signed up as BFO students, and are getting acquainted with the student side of the BFO web application. In a couple weeks, we are planning to do another Zoom call to explain the coach side of BFO.
So far, we've gotten a lot of positive feedback, and people are excited about using BFO in their own ministries. On our part, we are also excited about putting this tool that we designed for our ministry into the hands of others!
Documents
Part of life in a foreign country is keeping your documents current. Melissa, Briana, and I all need to renew our passports, and we'll be taking a trip to the US Embassy in Kyiv early next month to get that taken care of. It used to be that a consular official would come to Lviv from time to time, and we could handle passport renewals without having to make the almost-300-mile trip to Kyiv, but for now that isn't an option due to Covid.
Family
We finally got some good snow, and we've all gotten in some decent snow time. Right now, everything is melting, but next week, there's more cold and snow on the way. Looks like we have more sledding in our future!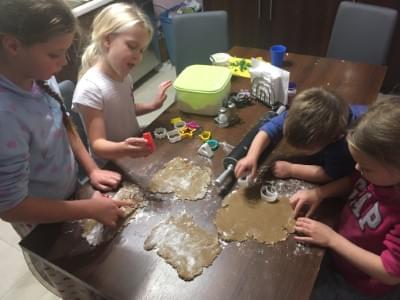 Making gingerbread cookies.